Easy Desk
X-Caliber Tactical is an authorized reseller and distributor of Easy Desk products.
---
» About:
Easy Desk: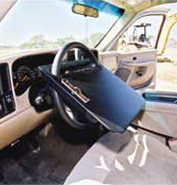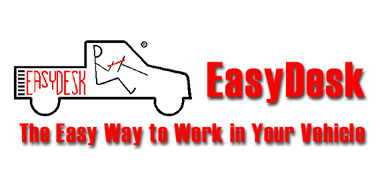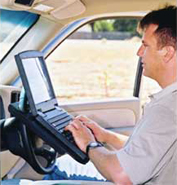 EasyDesk is ideal for anyone who must use his or her vehicle as an office or just needs a comfortable writing surface in the car occasionally. It is constructed of rugged ABS, a strong yet flexible plastic which makes EasyDesk durable and virtually indestructible.
The benefits of EasyDesk are immediately apparent to anyone who has ever tried to fill out forms, write a memo, review plans, or type on a lap top computer while sitting in his or her vehicle; you get a sore back or neck from looking down into your lap while trying to write on something balanced on your knee. Or, you honk the horn while trying to write on a clipboard leaned against the horn button.
EasyDesk eliminates all of these hassles by allowing you to sit in your vehicle seat as though you were sitting at a desk and complete your work in a convenient and comfortable fashion. It can be installed or removed from the steering wheel within seconds, and the handy spring loaded clip allows you to store your paperwork securely on the desk so that it doesn't get scattered around your car.
---
» Uses:
Laptop Computer Use
Anyone Who Works In Their Vehicle
Police or Security Officers
Construction Project Foremen
Surveyors
Agriculture Foremen
Road Construction Inspectors
Outside Salespersons
Plumbers
Firemen
Process Servers
Real Estate Agents
Utility Company Workers
Locksmiths
---
» Specifications:
Dimensions: 14.3" x 16.3" x 1.1"
Work Space: 11.7" x 16.3"
Clip: Nickle Plated Slimline Clipboard Clip
Material: ABS Plastic
Application: Fits All Light Truck and Passenger Car Steering Wheels
---
» Purchase:
Ordering Instructions:
Please include your address with your order so that we can establish a total including shipping and insurance to your location.
We accept payments by way of personal check, money orders (all checks must clear prior to orders being shipped), or we take Visa, Master Card or Discover Card over the phone.
---